grating trench cover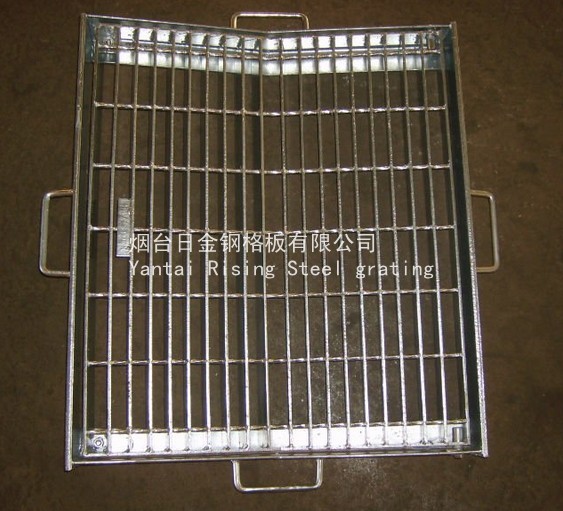 Detailed Product Description
1Bearing bar pitch:30,40,60mm
2>Cross bar pitch;50,100mm
3>Plain,Serrated,I-shape
4>Hot-dipped galvanized,Painted,Untrea
Grating trench cover is made by Carbon or mild steel of certain sizes through the processing of grooving, lock-pressure, welding, finishing and other treatment. Industrial bar gratings can be actually made from copper, aluminum and other materials, while galvanized steel grating is the mostly used one due to its economic cost and good property.
Applications:
Steel grating, with robust design and spanning abilities, is very strong and safe for the support of floors and elevated walkway. It can be used for ceiling, interior decoration, decoration, platform aisle, ventilation windows, (Wells), advertising plaque and other construction.
Specific application:
Oter" brand trench cover is widely used in urban roads, squares, gardens, docks, airports, car parks, highways, railways, industrial projects, other kinds of industrial civil construction.
Materials:
Mild carbon steel provides an economical, high strength for uses in most industrial and commercial applications.
Advantages:
Steel grating offers the following advantages compared with steel grid sheets:
Steel grating has light weight, good strength, large carrying capacity and can save materials and cost. It offers good ventilation of light and wind, a modern sense, aesthetic appearance and anti-skid safety. It is also easy to clean, easy to installation and durable for uses.
Trench covers of Steel grating products are designed and manufactured for various industrial and civil constructions in city road, gardens, yard, airport, railway and industrial engineering.
Features:
Aesthetic outlook: Simple lines and silver appearance meeting the modern trend.
The best drainage: Leakage area of 83.3 percent, more than twice of cast iron products.
Hot-dip galvanized treatment: Good rust-proof property, maintenance-free replacement.
Anti-theft design: The cover and the frame is joint with hinge offering security, safety and open convenience.
Savings investments: Large-span. Less lost for heavy load compared with cast iron products. Cost can be saved for the risk of being stolen or crushing one if cast iron is uses.
High strength: The strength and the toughness are much higher than cast iron. Can be used for terminals, airport and other large-span and heavy loading condition.
Specifications: More specifications and sizes optional for meeting various environment, load, span, sizes and shapes.
Surface Treatment:
Steel grating untreated: Allowing quicker delivery to customers whom fabricate and galvanize the grating on their own.
Galvanized: Hot Dip Galvanizing can give a hygienic and clean maintenance free bright finish.
---